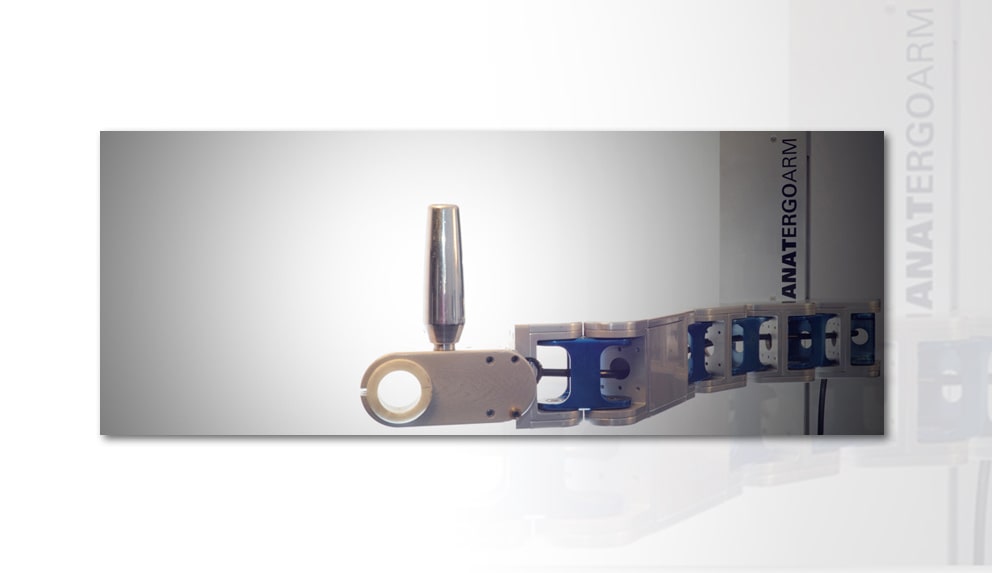 Advantages
Facilitates compliance with CSST worker safety requirements
Reduces RMIs such as carpal tunnel due to repetitive movements
Virtually eliminates kickback from torque tools
Simplifies complex operations in limited spaces
Allows long reach and high flexibility
Reliable, durable and easy to use
Speeds up work while reducing injuries
Maximizes human resources
Smart design with minimal power consumption
Portable and easy to store
Applications
Screwing using a torque gun for automotive and aeronautic industry
Tapping, deburring, nut running
Inserting threaded inserts
Drilling, grinding, torch cutting
Handling tools in tight and confined spaces
---
Key Features
15kg payload carrying capacity with hollow shaft design, allowing wiring and fluids to be integrated in the arm and pass through it to the tool-holder
Ergonomic: Handle and armrest designed for maximum comfort and safety while arm movements mimic the natural biomechanical movement of the human body and kickback from tools
Adjustable arm length: users can add or remove modules and extensions depending on their needs thanks to the modular design
Glides around obstacles in tight and confined spaces and completely rolls around its column thanks to its flexible architecture
Easy to operate and maintain and built from corrosion-free anodized aluminum
Heavy-duty, high quality, long lasting components made with patented technology
Safety: Load and arm position is retained even when electric power is removed
Contains advanced automatic braking system to maintain vertical position
Zero-gravity load design allows the arm to move horizontally without power
Add and remove components: flexible tool holder, adaptable to wide range of standard tooling
The ANATERGOARM™ AEA-15 is a heavy-duty tool-support arm with a modular ergonomic design made with anodized aluminum. It allows anyone to use a wide variety of heavy pneumatic, electric and hydraulic tools up to 15kg in tight spaces. Users slide tools effortlessly and glide through tight spaces with ease while in complete safety and comfort.  The ANATERGOARM™ AEA-15 has all the advantages of zero gravity tool balancers and requires a fraction of the workspace and has snake-arm flexibility while combining and surpassing the types of ergonomy in traditional ergonomic manipulator arms.
The ANATERGOARM™ AEA-15 is composed of five modules and one extension with a 1.2m reach that form an arm attached to a column that the arm moves up and down inside at the push of a button when motorized, or with counter-weights.The zero-gravity load design of the arm eliminates all friction, so it takes no power to slide tools horizontally. Modules fold over each other, allowing the arm to take the most direct path to any object and glide around obstacles. Users experience three levels of ergonomics: the handle and arm support are ergonomic, the arm's movement mimics the natural biomechanical movement of the human body and recoil from tools is reduced by 441% at peak torque and 158% for impulses. The arm requires zero power consumption moving or resting and the automatic brakes allow it to maintain its current vertical position. The base of the arm contains counter-weights which balance the arm, allowing users to move the arm up and down by hand effortlessly.
Testing conducted by the University of Windsor as mentioned in the July/August 2019 edition of Plant magazine found that the ANATERGOARM™ helps to prevent Repetitive Motion Injury (RMI) at the workplace, while minimizing worker fatigue and accidents. The testing was conducted using the Atlas Copco® Power Focus 6000™ electric assembly system, a widely used electric torque wrench, especially in automobile manufacturing.
The ANATERGOARM™'s length can be customized by adding or removing modules to or from the arm. An optional extension can be added to allow the user to increase the reach of the arm and change the configuration for different tasks. An optional end-effector can be added to allow the user to rotate tools 360 degrees. The arm can be mobile, mounted on a column or fixed overhead using our rugged support system, designed for long lasting performance.
Interested in ANATERGOARM™ AEA-15?