BIXI©
Public Modular Bike System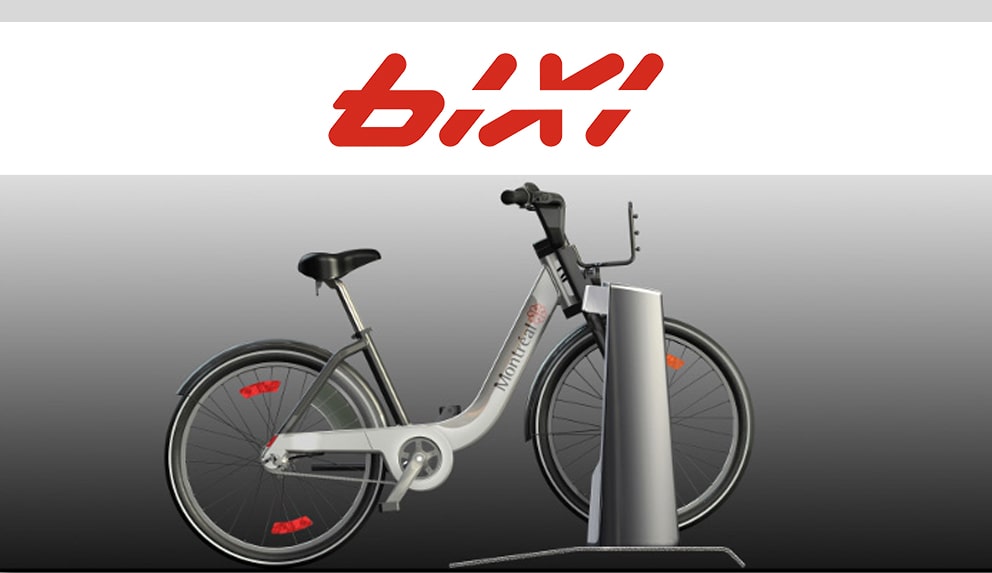 150K

Docks Stations

46

Cities

12

Countries
Cities & companies using the Bixi bike docking stations around the world
Aruba | Aspen/Basalt | Colorado | Barcelona | Boston, Massachusetts | Buenos Aires | Chattanooga, Tennessee | Chicago, Illinois | Columbus, Ohio | Detroit, Michigan | Dubai | Guadalajara | Honolulu, Hawaii | London | Louisville, Kentucky | Minneapolis, Minnesota | Monaco | Montreal, Quebec | New York, New York | Nicosia | Porto Alegre | Recife | Rio de Janeiro | Rio de Janeiro | Salvador | Santiago | São Paulo | Toluca | Toronto, Ontario | Tucson, Arizona | Valence | Vila Velha | Washington, D.C. | Stony Brook University, New York

Green Bike Aruba | WE-cycle | Bicing | Bluebikes | Bluebikes | Buenos Aires | Chattanooga, Bike Chattanooga | Divvy | CoGo | MoGo | Careem Bike | MiBici | Biki | Hawaii Island Santander Cycles | Santander Cycles | LouVelo | Nice Ride Minnesota | MonaBike | BIXI | Citi Bike | Velespeed | Bike Itaú | Bike Santiago | Bike Itaú | Huizi Toluca | Bike Share Toronto | Tugo | Libélo | Bike VV | Capital BikeShare | Wolf Ride |
---
With the team formed by Michel Dallaire Inc., Charles Khairallah the founder of Robotics Design Inc., 8D technology and Devinci, the BIXI© was born.
We created the bike docking station, another example of Robotics Design's motto; "simplicity through advancement" in action. The modularity of the bike dock simplifies maintenance, allows the system to be used for multiple purposes, and ensures maximum durability. The majority of the system is made of aluminum, which makes it easy to deploy, move and arrange, and makes the system recyclable. Each group of docks is solar powered, which optimizes power consumption and makes the entire system environmentally friendly.
The 19th best invention of 2008 according to TIME magazine and recipient of numerous prestigious awards, BIXI's success is legendary. It has expanded across the world in a matter of weeks, and continues to receive positive media coverage daily. This project has followed the path of Robotics Design's mission to "provide unique and innovative products to serve humanity and simplify their lives while protecting the environment they live in".
Do you have a job challenge no one else can resolve?