Deploy ANATERGOARM™ at your factory
The Assisted handling division manufactures and develops assisted manipulators and tool-support arms for industrial manufacturing such as automobile and aerospace manufacturing. These hyper-redundant ergonomic arms simplify jobs that involve repetitive tasks or tasks where heavy tools are used, especially in tight and confined spaces.
Assisted Handling products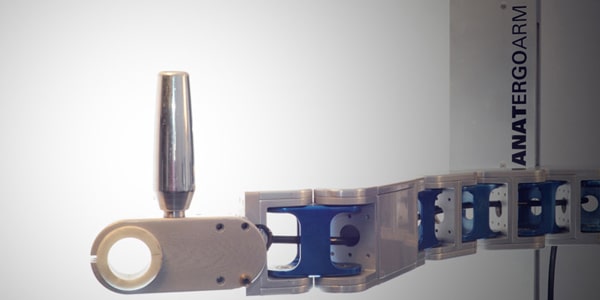 ANAT
ERGOARM AEA-15
The ANATERGOARM AEA-15 is a modular ergonomic arm that increases worker safety and productivity while using heavy tools in repetitive tasks, thanks to its no gravity load design.
View details
---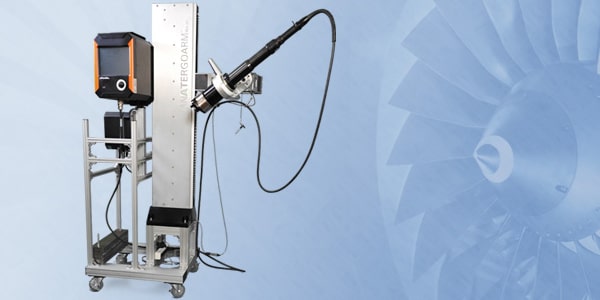 ANAT

ERGOARM AEA-50

The ANATERGOARM AEA-50 is a tool-support snake-arm for hand-held tooling up to 50kg. It excels at tasks in tight spaces and bends around several obstacles while carrying heavy loads.

View details
---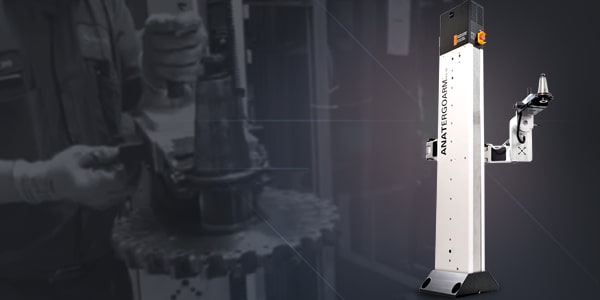 ANAT

ERGOARM AEA-50M

The ANATERGOARM™ AEA-50M with the CutterGripper™ loads and unloads more than 100 types of heavy milling cutters from the automatic tool changers of CNC milling and lathe machines and holds them in place for adjustments. It also holds or rotates the disc cutter for users to add and remove cutting edge inserts. The arm lets you slide loads effortlessly and glide through confined and tight spaces in complete comfort without power consumption.

View details
---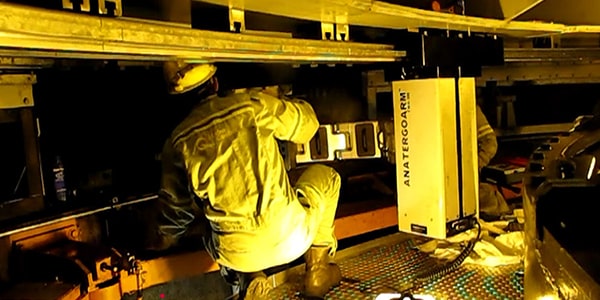 ANAT

ERGOARM TMA-500

The ANATERGOARM TMA-500 is a manual modular manipulator arm specialized for operations in hydro-electric turbines. It allows a single user to navigate tight spaces and obstacles while carrying payloads of 500kg.

View details
---
Deploy ANATERGOARM™ at your factory
Maximize Worker Productivity
The Assisted handling division seeks to solve two problems common in industry today: problems associated with repetitive tasks and with maintenance and repair in tight and confined spaces. Repetitive tasks in manufacturing plants have been known to cause R.M.I. such as carpal tunnel, and lead to reduced worker efficiency and costly medical procedures. Maintenance and repair jobs that are performed in constricted spaces are typically complex due to the inflexible and bulky size of most assisted manipulators. This is typically solved by significantly increasing the manpower for a job, and rearranging manipulators numerous times to be able to work in different hard-to-reach places. Also, many applications involving spaces with limited manoeuvrability are unsuitable for rails and cable balancers, due to the limited flexibility of these manipulators.
Robotics Design's ergonomic assisted manipulator arms help simplify tasks involving both repetitive tasks and tasks where maintenance and reparation jobs are performed in limited spaces, while increasing productivity. The torque-absorbing modular design of these arms allows users to use heavy tools such as pneumatic or hydraulic equipment and virtually eliminate kickback, and workers are able to move this equipment around any obstacle effortlessly.
The hyper-redundancy and modularity of these ergonomic arms allows workers to use them in tight spaces where obstacle avoidance and small size are critical, such as the automotive industry or wind turbine reparation. This maximizes human resources by allowing a single arm to be used for the complete application, without having to displace the arm's base. The high payload carrying capacity and modularity of these arms allows accessories of almost any size, weight, or shape to be attached, and accessories can be removed and replaced easily, or locked into place.
Robotics Design knows that special challenges require special tools, and therefore we customize our ergonomic arms to suit any application on demand. They can also be made mobile on rails or a cart depending on the application.
Testimonials
The implementation of higher health and safety standards prompted us to review our working methods and modernize some of our maintenance tools, such as the one used to dismantle our brake units. Our existing tool allowed us to perform work of a limited scope and, because it was crafted in-house, development engineering was not a consideration. Companies specialized in custom tooling are few and far between, so the purchase of a new tool posed a challenge for us. We turned to our internal engineering advisors at the Shawinigan facility in the Montérégie region for advice. Although they had crafted many tools for us in the past, they could not offer a solution to this particular problem.

When I contacted Mr. Khairallah at Robotics Design, he seemed very enthusiastic and was eager to solve our problem. I believe this type of challenge is the very reason he gets up to go to work in the morning. Although many engineering firms could have met our requirements, none could have delivered the type of device crafted by Robotics Design at a reasonable cost. Thanks to the purchase of this new device, we now have lightweight, state-of-the art equipment that is both easy to install and safe to use.
This project was a success thanks to the professionalism of Mr. Charles Khariallah and the Robotics Design team. From the project study until conception, improvements were made throughout the process of fabrication, which was already above our expectations. The listening to our needs and regular communication ensured evolution at each stage of the project.
Our experience with Robotics Design was very high quality. After many searches, our attention was put on their concept to help us resolve the problem of ergonomy. From our first encounter, we were very optimistic about the potential that the ANATERGOARM™ could offer us in regards to improving heavy load handling and for the specific task we wanted to do.

Charles and his team later presented us a quality project, offering what we were searching for. The interface created by the team here, the Mirabel factory of Safran Landing Systems, in collaboration with the one of Robotics Design to allow the holding of cutting tools in the tool-machine this has found to be very effective in its final version, which is now in operation here. It is easy to operate and solid.

The development and testing in 3D graphics before construction permitted us to make modifications and adjustments at a minimal cost instead of using a "trial and error" method with the available materials. The installation and commissioning were well supported by Charles and his team.
Previous
Next