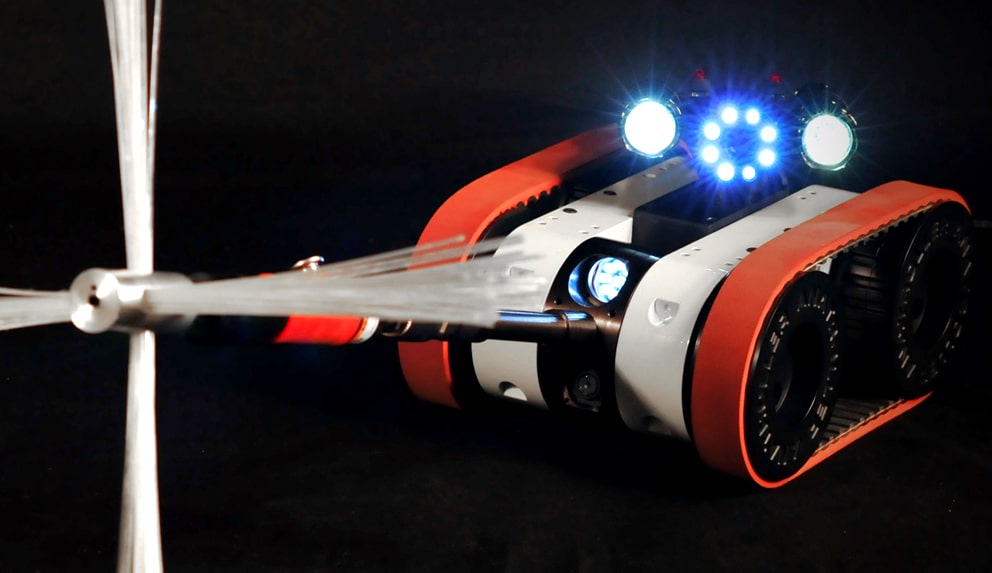 Included with
ANAT

ROLLER™

ARI-100
Large wheels or tracks 8.5"
Camera #1 +/-90° and Light #1 built-in
100' of cable
Carrying case for storing the robot
Video output
Security key
3 whips nozzle
Forward and reverse blowing nozzle 1/4"
Pneumatic motor with bristle adaptor
Tablet PC for viewing and recording video
Additional Accessories

PROCOAT™, the professional coating, sealing and spraying attachment for the ANATROLLER™ ARI-100. Includes VacAid™.
VacAid™ holds a vacuum line for direct cleaning in isolated ducts and gripping objects.

Electric Power Brush kit. Includes power supply and connectors.
The MobileReelingBase™ is a cable roller and feeder that protects the cable and allows it to be easily fed into the duct.

The CableGlider™ for the ARI-100, ARI-50 and ARI-10 suspends connector cables off of sharp access hole edges for smooth movement.

Small Wheels kit 0.5 inch width for ARI-100 and ARI-50. Includes 4 wheels and shapeshifter.

Small track kit. Includes 4 wheels and 2 tracks. .5" width.

Connects two 100 foot ARI-100 cables together, making the cable 200 feet long.

The OnePassMulticleaner™ holds three cleaning accessories at once to clean appropriate ducts completely in one pass.

Extents arm on ARI-100 a medium or large distance away from the robot. Custom design available.

Nozzles for air whips. Aluminum or Carbon Fiber Alloy. Custom-design available.

Customizable triple strip for polishing.
GoPro adapter that holds or rotates camera 360 degrees.
---
Key Features
Light weight, easy to operate and deploy
Brushes, whips, vacuums, sprays, coats, seals, disinfects and polishes
Symmetric, durable and compact design
Climbs 5" obstacles and 45° slopes
Manipulator arm moves in all directions
Made from eco-friendly aircraft grade aluminum
One cable contains pressurized air and power
Tows 45kg and a cable up to 200 feet
Removable 360° and built in +/-90° rotatable cameras
Easy to clean and maintain
The ANATROLLER™ ARI-100 is a professional duct cleaning and inspection robot. This is the gold standard for cleaning hospitals, factories and hazardous duct work. It is designed for brushing and spraying disinfectant and sealant and to deliver years of reliable daily work in any type of duct regardless of challenges presented.
The ANATROLLER™ ARI-100 is highly maneuverable, small-sized, extremely powerful and designed to be easily deployed quickly. It weighs 8kg and can tow and carry 45kg and 50kg. Its articulated arm moves the pneumatic brush and other tools in all directions and it climbs 5" obstacles and 45° slopes. This enables it to completely clean a duct section in one pass, even when the duct changes in size or turns. It can fit in the majority of ducts starting at 8" x 6", and hold the largest brushes with the scissor lift attachment to clean large ductwork up to 78" x 78". Accessories for cleaning included, and accessories for coating, sealing and personalized customizations are in stock and can be designed on demand.
The robot is connected with a single 100'-200' cable which combines both pressurized air and wiring, allowing it to comfortably navigate ducts with multiple twists and inclines. The user-friendly robot control system and video screen are included on a PC tablet. Duct cleaners can sit with their customers while cleaning and watch in HD a spotless job done very efficiently and in complete safety. With our professional cleaning equipment, cleaning dusty ducts is no longer dirty work!
Interested in ANATROLLER™ ARI-100?