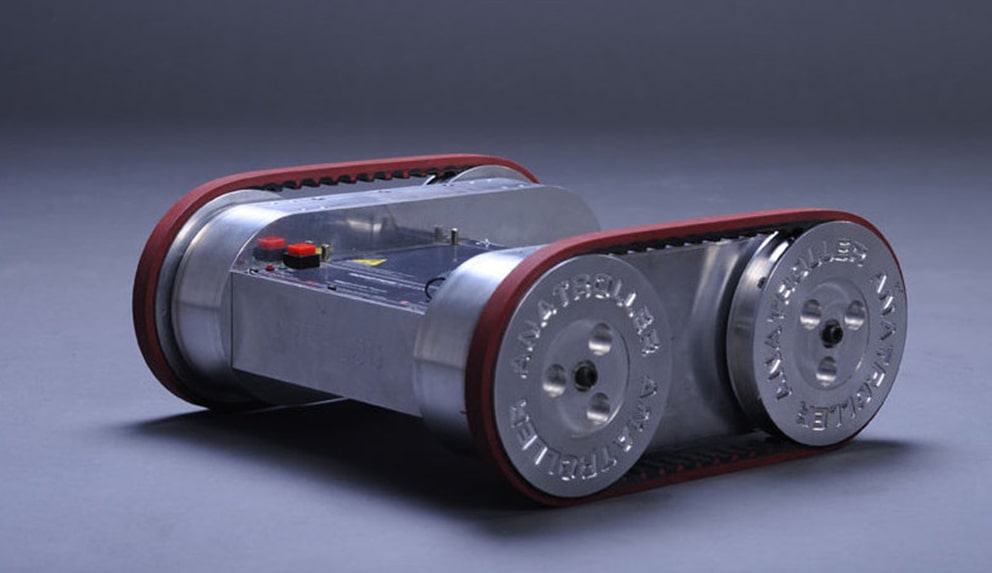 Advantages
Zero turn radius
Anti-tilting robot
Lightweight and nimble
Ability to climb obstacles (if module2 is added) and slopes (maximum of 45°)
Symmetric design allowing the robot to continue operating after a flip over
Payload carrying capacity of 40 kg
Possibility to add manipulator arm
High-quality precision machined
Custom configurations made to order
---
Designed and manufactured in Canada by Robotics Design Inc., the ANATROLLER™ ARE-100 is an advanced rugged modular mobile robotic platform based on patented ANAT Technology™ for educational and research laboratories. This high quality robot is made from anodized aluminum and stainless steel. The ANATROLLER™ ARE-100 can be customized to suit any application, depending on your needs: Four-wheel drive, two-wheel drive, treks, with or without the controller and can use Linux or Windows as its operating system. Because this robot is modular, it can connect to other robots or partially disconnect from itself safely, which allows this diverse yet specialized robot to suit any application, and allows it to successfully accomplish tasks that no robot has ever been able to perform.
With the ANATROLLER™ ARE-100, researchers can develop specialized intelligent robotic projects for security applications such as human-machine interaction, mobile system navigation, robot behaviour, image processing, object recognition, voice recognition, tele-operation, remote sensing, and autonomous navigation/patrol map building and localization and a myriad of other applications.
Interested in ANATROLLER™ ARE-100?